Post by Erik Rupp on May 5, 2013 21:02:43 GMT -5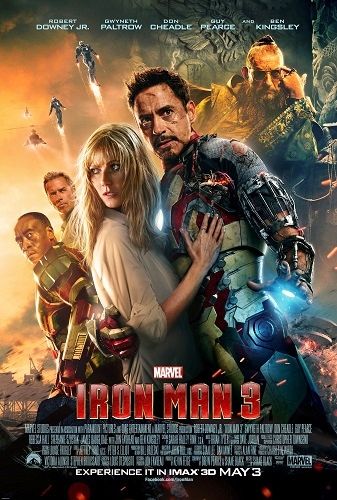 Some people have called Iron Man 3 a welcomed return to form. Iron Man 2 was harshly criticized by many, even though it retained the sense of fun - hell, the near whimsy - of the first Iron Man movie. Iron Man 3 has more than it's share of humor, but is it really a better movie than it's predecessor?
I don't think so.
It's not bad. It's actually pretty good, but it's not the return to Iron Man 1 form that the hype would have led us to believe it was.
Why? Too busy. There are too many different plot threads going on and as a result the movie isn't very cohesive. Secondarily, they recycle the, "Tony's having physical/psychological/health problems," angle from Iron Man 2 (where, to be honest, it was done better). That bit is completely unnecessary and actually becomes a distraction.
Iron Man 1 turned out so well because it was simple, direct, and to the point. Iron Man 2 wasn't as good because there were more characters and more plotlines as they set up The Avengers (but it was better than most critics would admit). Now Iron Man 3 seems to forget all the lessons learned from Iron Man 2, even though IM2 director Jon Favreau is in the IM3 cast. Apparently, new director Shane Black didn't bother to ask Favreau for his take on the script or the approach to the movie overall, because if he had Favreau might have warned him of the pitfalls of throwing too much into the mix.
With Iron Man 3, even though it is a fun, entertaining movie, it's all a bit
too much
. Maybe Shane Black and the producers thought they had to keep up with the specacle and over the top size of The Avengers, but that was extremely flawed thinking. What made Iron Man 1 work was Robert Downey Jr and a smaller scale story. A more personal story. A fairly simple story - one that gave Downey and Gwyneth Paltrow a chance to carry the movie on their charm (something that worked brilliantly).
Downey and Paltrow don't have as much of a chance to do their thing in Iron Man 3 (not even as much as they did in IM2), and that's a shame. Sure, they're both great when the movie takes a breath and gives them a chance to carry things for a little while - but that's the problem, it only lasts a little while and then it's on to the next crisis or action sequence.
There's also a plot twist that kind of sucks the air out of the movie, making the first half seem like a cheat. And the villain seems to have a never ending supply of soldiers, which actually hurts in the action finale as we don't really know how many of them there are, and if they've all really been disposed of or not.
Still, the action sequences
are
exciting and the banter between Downey and Paltrow (and between Downey and Don Cheadle) is still quite good. The ingredients are all there, the problem is that too many ingredients have been thrown in and it gives this particular cinematic cake an odd taste - too many flavors all at once, and not enough of the flavors that we enjoy the most.
And as a result by the hour and a half mark the movie already feels long, and it's stil got a significant amount of time to go at that point. They could have trimmed out a lot of stuff and excised the plot twist and made a better movie.
Iron Man 3 is good. It's just not as good as it should have been (and easily could have been). At least this wasn't a Batman and Robin or Superman 3 type disaster. The bar was just set really high by Iron Man 1, and then kept high by The Avengers. Even though Iron Man 3 didn't hit that mark it still does a decent job of getting off the ground.
3.75/5