Post by Erik Rupp on Jun 10, 2013 10:22:36 GMT -5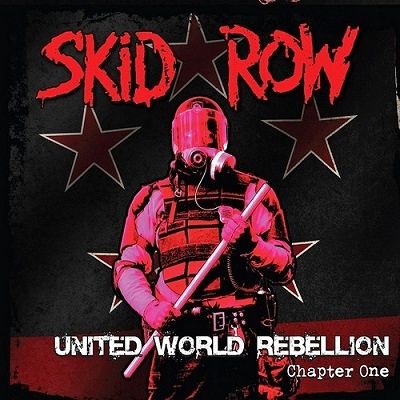 There's nothing particularly bad about Skid Row's new CD, United World Rebellion Chapter One, there's just nothing particularly good about it, either.
More than twenty years past the band's peak of success they keep on hammering out new music every 3 or 4 years, only this time they seem set to do it in pieces. Two or three E.P.'s filled with five songs each seems to be the plan. OK, that's fine, but are the songs any good?
Well, kinda. Sort of. A little.
"Kings of Demolition," is a solid song that would have fit fairly well on Slave To The Grind, but while the style is right, the song itself is nothing spectacular. It's good, but it's not, "Monkey Business," good. It's not, "Slave To The Grind," good. The musical attitude and Johnny Sollinger does a fine job on the vocals, but ultimately this would just be a solid album track on Skid Row's best album and nothing more. That would be fine if there were better songs on the E.P., but, unfortunately, there aren't. This is as good as it gets on United World Rebellion Chapter one.
"Let's Go," has a lot of punky energy, but what it lacks is musical substance or an above average hook. Again, it's not bad, but it's not great, either.
And then comes the ballad. In 2013? On an E.P.? Really? "This Is Killing Me," is a standard issue Skid Row ballad. The pattern continues as this song isn't terribly bad, but it isn't all that good, either. Mediocrity is setting in by this point, and it's doing so in a dull, boring fashion.
The obligatory moody, dynamic, 90's influenced track comes next in, "Get Up." It's a fine song. Nothing wrong with it at all. If the rest of the E.P. were better this would be another winner. As it is, among the mediocrity, the lack of energy on this one relegates it to just another song and nothing special.
And then there's the final track on the five song E.P., "Stitches." It bounces along looking for direction and a hook, but never really finds either. Risking being redundant, this one is a halfway good song without being really good. It's middling, like most of the rest of United World Rebellion Chapter One.
The audio production on the E.P. is fair. It sounds OK for an independed release, but it isn't up to the standards of Slave To The Grind, though. The mix is competent and fits in with the rest of their releases without sounding like a huge dropoff in audio quality.
So the best song on the E.P. is merely good (arguably very good, depending on your taste), and nothing is terribly bad, so what does that leave us?
3/5