Post by Erik Rupp on Aug 15, 2013 12:53:15 GMT -5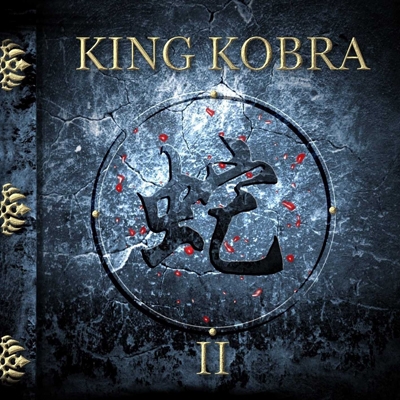 King Kobra's self-titled 1985 debut album is considered to be one of the better Melodic/Pop Metal albums of the 1980's. Produced by Spencer Proffer the album combined bombastic drumming (courtesy of band leader and drum legend Carmine Appice) with some solid guitar riffs and catchy, melodic vocals. The result was a classy slice of mid 80's Hard Rock. The album wasn't a big hit, but it was noticed by many Hard Rock fans at that time.
The second King Kobra album saw the band drastically shift gears towards a more keyboard driven, Pop oriented sound, and they even went so far as to create one of the first Rap/Metal songs in, "Home Street Home," (not bad for that kind of thing, and pretty good for the era, but
very
dated now). Unfortunately, "Home Street Home," was arguably the best song on the album as the rest was really faceless Pop with some guitars thrown in (not nearly enough).
Since then Carmine rebooted King Kobra a couple times with less than stellar results.
Then he got the idea a couple of years ago to reform the original band and put out a new album. Well, most of the original band. Original lead singer Mark Free literally isn't the same person anymore and wouldn't quite fit in the band these days. So Carmine recruited former Rough Cutt and (short time) Quiet Riot singer Paul Shortino to be the new voice of King Kobra, and they got to work writing and recording a new King Kobra album.
The results, the self-titled King Kobra, were excellent. The album was arguably as good as their debut, and was just the next logical step from that album. King Kobra had finally delivered a second worthy album.
Not satisfied with that, Carmine and the band decided to make another album, and the results can be heard on King Kobra II.
Unfortunately, while the first comeback album was top notch for the old school Melodic/Pop Metal style, King Kobra II falls short of that quality on a couple levels.
First, the songwriting isn't up to snuff. Sure, there are some good songs here, but there are too many mediocre songs to overlook. Where the last album was pretty much top notch from start to finish, King Kobra II is much less consistently good.
Second, the audio production isn't quite as good, either. It's not bad, but it sounds like a lower budget album than the previous one. It may not have been recorded on a lower budget, but it sounds like it was. The guitar tone is very often the ultra crunchy early 80's indie guitar tone, overloaded with midrange. While solid mids are needed to keep a guitar tone from getting mushy, overdoing it sounds cheesy and low budget. The drum sounds aren't as good as those on the previous album, either. Again, there is too much emphasis on the mids (not as much as the guitar tone, though) and a little too much reverb. The end result is a mix that sounds fairly good, but definitely like an independently recorded, low budet album. It's good for that kind of thing, but the last album sounded better and more professional.
But, what about the song specifics? Here's the track by track, blow by blow play by play...
"Hell On Wheels" - This is a raucous, uptempo song with some passable riffing and vocal melodies. The chorus hook is good, but not great. As an album opener it works well.
"Knock 'Em Dead" - Remember those songs from the mid 80's that were inspired by both Judas Priest and Motley Crue? If you do then this upper mid tempo song will feel very familiar. Again, the chorus hook is good, but not great, and the riffs are solid, even if very well worn.
"Have A Good Time" - Things get interesting here. This sounds like something heavily influenced by early 70's songs from both the Rolling Stones and the Faces. The chorus is catchy and the groove is infectious, but, again, this is a well worn song - this kind of thing has been done many, many times before. A lack of originality isn't a killer, but if you're going to go where everyone's gone before at least do it better than most that have done it before you. This is a good song. It's just not
quite
a great one.
"The Ballad Of Johnny Rod" - Now that's more like it. No, they didn't even show a shred of originality on this one, but what they did was to take some well worn ideas and do them really, really well. This is a ZZ Top-esque shuffle with some double-bass flair thrown in by Appice. This may actually be the best song on the album. Even the mix is better on this song than on most of the other tracks.
"Take Me Back" - Ballad. Acoustic gutars. Tambourine. Bombastic, but not heavy chorus with some pedal steel guitar thrown in. Hammond organ. Good vocals from Shortino. Very much influenced by a lot of songs from the 70's. Mediocre song.
"When The Hammer Comes Down" - Carmine opens this one with some of his trademark drumming, and the band kicks in with some very 80's guitar riffing. They seem to be going for groove and attitude here with this mid tempo track. On that level it is a wild success. As a song it's fairly good, and it's more infectious than it has any right to be thanks to that groove and attitude, but it's still not as good as it could have been with a little more work on the vocal melodies.
"Running Wild" - No, not the Judas Priest song, although that might have worked better. Again we get a decent song with a fairly good groove and some solid riffs and vocal melodies. We've just heard this before, only a little better. Not a lot better, though - this
is
a fairly good track. Just not as good as it could have been with a little more work.
"Got It Comin'" - When the song starts you can be forgiven if you thought that King Kobra was covering a KISS song (again), the KISS song in question being, "Lick It Up." But, no, the song becomes something totally different, something very Poppy and almost modern Country in style. It's OK. Seemingly an obligatory change of pace song, only a change of pace wasn't needed.
"The Crunch" - A slow-ish mid tempo song with a ton of groove and a little bounce. The influences range from Led Zeppelin to 80's Pop Metal. Again, a decent song that isn't terribly special. It's enjoyable despite it's lack of upper tier songwriting. It works well in context of the album as a whole.
"Deep River" - Another slower mid tempo song that starts out by altering, "Kashmir," just enough so that the riff isnt' a
complete
steal. This is a fairly funky, halfway bluesy track that is one of the highlights of the album, despite the borrowing from Zep.
"Don't Keep Me Waiting" - Hmmm... For the first bar this one sounds like they're going to cover KISS', "Tears Are Falling," and after that the rest of the song sounds like they're trying to write that kind of song with a nastier attitude. An on that count it is a wild success. Kind of a KISS/Guns N Roses hybrid, with more 1985 KISS than 1987 Guns. This is a very good song.
"We Go Round" - Maybe it's just me, but the opening sounds a little like Cheap Trick, and not their harder edged stuff, either. The rest of the song is a Pop Metal/Power Pop/Bryan Adams combination. Mediocre. It's kind of a sad way to close out the album. A really strong, harder edged song going out with a bang would have been a much better way to go.
So there you have it. The band certainly plays well, and Paul Shortino sings well, but the album isn't as good as it could have, and should have, been.
Where the previous album, King Kobra, was a winner by knockout, this one has to settle for a narrow split decision win. (Carrying the boxing metaphor a little farther, only one judge gave the decsion to KK, with the other two calling it a draw.)
At least it's better than Thrill Of A Lifetime and King Kobra III.
3.5/5