Post by Erik Rupp on Feb 19, 2014 23:46:39 GMT -5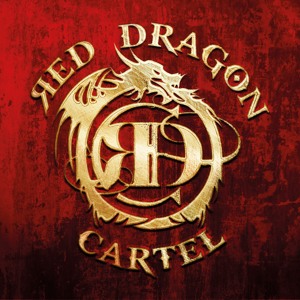 Jake E. Lee is back.
He's been in a self imposed exile out of the spotlight for a rather long time. Too long.
But once he saw just how much his fans missed him and wanted him to return he wasted no time in putting a new band together and recording a new album. Actually, it was intended to be a new solo album with a different guest singer on each song, but once he was well into recording the album he decided to get a full time singer to sing half of the album and have the guests do the other half. That's a prospect for a lack of unity or cohesiveness on an album with tons of potential for disharmony when singer's styles don't mesh well one song after the other.
In this case his new singer is Darren 'D.J.' Smith, a former drummer. His struggles during the band's very first gig were well documented online, but he did improve significantly over the next couple of shows. But what really counts here is his ability in the studio, and in that environment he did a fine job. He may not be a great singer, but he's more than adequate. Is he as good as the late, great Ray Gillen? No. Not even close, really. But, to be fair, Gillen was a great singer and songwriter and a lot of singers fall short of that standard.
Jake's most unfortunate decision when it comes to the Red Dragon Cartel album is the use of producer Kevin Churko. Churko produced the last two Ozzy albums, arguably the worst albums in Ozzy's catalog. Now there is the Ozzy connection to Jake, of course, and Jake has said that he had been contacted previously about rejoining Ozzy's band (but turned down the offer). Does working with Ozzy's last producer signal a shift in Jake's attitude? He's indicated that he'd actually consider rejoining Ozzy IF Sharon updated the songwriting credits on Bark At The Moon to include Jake for all the work Jake put in to writing those songs. He doesn't even want money - just the recognition that he wrote much of that music. Fair enough.
But what about this album?
It's good. There are spots here and there that are very good, but there's nothing great here. The audio production is OK, but the guitar tone (something that had always been one of Jake's strengths) is not all that great. It's just OK. The guitar tone to open the song, "Deceived," is partucularly bad (and eq'd all wrong - totally thin and midrangey, sounding like it was recorded over the phone). The song itself is, thankfully, one of the very good tracks. Intentionally recreating the, "Bark At The Moon," (the song) style it may be the best on the album.
The one thing that Jake made clear was that he wanted this to be a modern album, and overall that is what he achieved. Unfortunately, songs like, "Shout It Out," while taking old school riffs and combining them with modern production and vocal stylings, fall short of the standards that Jake set back in the 80's.
The good? "Feeder," (featuring Cheap Trick's Robin Zander and Tom Peterson) is another very good track. "Wasted," (featuring original Iron Maiden vocalist Paul Di'anno) is also really good, with a down and dirty Hard Rock/Metal hybrid style (and a good vocal from Di'anno). "War Machine," is a VERY Black Sabbath-esque kind of song. (Is Jake really auditioning for the Ozzy gig here?) This one sounds like something that could have been included on Black Sabbath's 13 album. "Redeem Me," (featuring Sass Jordan) is a good soulful Hard Rock song. And the Best Buy exclusive bonus track, "American Dream," is an above average track on the album (making that the version to buy).
Noteworthy is the solo paino instrumental, "Exquisite Tenderness," which was the first song Jake ever wrote. It's nice, and, amazingly, it actually fits in with the rest of the songs on the album fairly well.
As for the rest of the album? Mediocre to OK at best. Utterly skippable at worst.
But the most important thing here is that Jake is back, and is getting his playing and songwriting chops back in shape. Next time out we could be in for something special. This time out we didn't get that something special, but got something hopeful instead.
3.75/5