Post by Erik Rupp on Aug 16, 2014 21:39:23 GMT -5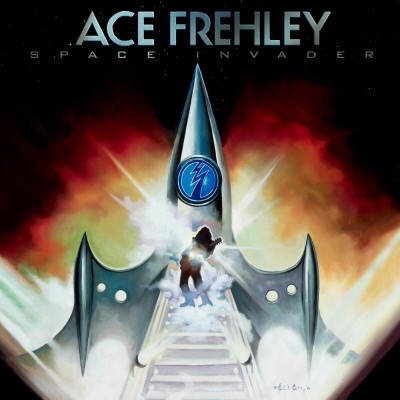 Ace is back and he told you so!
OK, that line got old after Second Sighting back in 1988. And as much as Ace comebacks are noteworthy due to the usual time elapsed between new studio albums Ace hasn't really been, "Back," in top form since Trouble Walkin' back in 1989. 2009's Anomaly certainly had a few great tracks ("Foxy and Free," "Outer Space," and, "Sister"), but it also had it's share of mediocre songs and a couple flat out embarrassing tracks that are truly cringe-worthy.
So would Ace step it up and top Anomaly, would he flatline and maintain the overall middling nature of that release, or would the quality of his next album slide backwards?
Well, the middle option, as it turns out, is really the most accurate answer. Space Invader doesn't really have anything as embarrassingly bad as, "Change The World," or, "A Little Below The Angels, " but it also lacks tracks of the high quality of the aforementioned, "Foxy and Free," "Outer Space," and, "Sister." Unfortunately. Space invader has a much narrower range between it's best songs and it's worst. There is a noticeable difference between it's best and it's worst, but not nearly as much of a gaping chasm as was the case with Anomaly.
The album opens with the title track, and, overall, it's a pretty good song and one of the album's highlights. The chorus is quite good, and the solo section break is not dissimilar to a couple similar breaks on his 1978 solo album (a nice touch). But the vocal melody to the verse is mediocre (it's very percussive, and almost rapped), and the song desperately needed a bridge between the verse and the chorus. Still, it's a fairly good track and works OK as the album opener.
"Gimme A Feelin'," is the next track, and it was the first single released from the album. It's a fairly generic halfway uptempo song, but it's also fairly catchy. What saves it from complete, utter mediocrity is the conviction with which Ace performs it both on lead guitar and with his lead vocals. Ace will never be mistaken for a great singer, but his vocals are often effective, and that's the case here. His voice has a quirky charm that works well with his riff writing style, and that much is evident on this track. His lead playing here is much better than on Anomaly, even if it doesn't reach the heights of his 1970's playing, or even his 1980's era when it comes to the solos.
"I Wanna Hold You," is an oddball of a track. It almost sounds like a cross between 1960's Surf Rock and 1970's era Ramones, presented through the prism of Ace's style. It's uptempo and energetic, and Ace holds on to that one chord throughout the verse as if his life depends on it (which wasn't necessary - he could have played nearly the same pattern with one or two other chords as accents). This isn't a great track, but in the context of the album it isn't bad and it is fairly infectious.
Ace steps up the songwriting quality on the slower midtempo, "Change." There isn't anything terribly special about this song, the riffs are fairly generic and ultra simple, the vocal melodies are standard issue - and yet the whole is greater than the sum of it's parts. The one gripe I do have with this song is that there should be at least two more voices overdubbed in the backing vocals on the chorus. So while none of the parts individually are all that great, they work very well together making for a really good song.
Then Ace lets us know how much he likes to play with his, "Toys." This is another Mountain-esque song with a Dazed and Confused Mississippi Queen inspiring the main riff. Ace's quirky charm comes through again as this is the kind of song that wouldn't work well for most other artists, but somehow Ace gets away with it. The verse has the huge Mountain style riff while the chorus would find itself right at home on the first Frehley's Comet album. This is another of the album's highlights. Its not great, but it is a good track.
But things get dodgy from the get-go with the next track, "Immortal Pleasures." While an audio clip from the all time great Science Fiction movie Forbidden Planet is always welcomed, the editing of the clip was sloppy (the word, "But," is left in in a way that makes it clear that it has been edited quickly and without much thought - edit the word out and it sounds much more natural). After the potentially great (and very cool) classic clip was partially botched, Ace follows it up with a song nearly as bad as the worst on Anomaly. This song sounds goofy, and the lyrics are both cheesy and bad. Sometimes bad, cheesy lyrics can be fun, but these bad, cheesy lyrics just come across as pretentious. Musically, this song just sounds like Ace trying to be taken seriously as an, "Artist." He fails. Again, not as badly as on the pair of stinkers on Anomaly, but closely enough that this is clearly the worst track on the album.
Then we get, "Toys," Part II in the form of, "Inside The Vortex," and, guess what? It is another of the album's highlights. The riff's similarity to that of, "Toys," is a little off putting, especially with just one song in between, but the overall quality of the song quickly puts any negative feelings to rest. This is a very good song that shows how Ace still has some gas left in the tank. It's big, beefy, and just a little spacey.
"What Every Girl Wants," is her own copy of Space Invader on CD. OK, not really, but this song is pretty good all the same. It still isn't great, but it is pretty solid and would have been better than 4 or 5 of the songs on Anomaly. It's another upper midtempo song where Ace sings with a lot of conviction, sounding at least 20 years younger than the 63 years he's been on this planet. Pretty good stuff for sure, even if the chorus could have been better with a slightly different vocal melody and the word, "Needs," in place of , "Wants," the second time he sings the title in each verse. But that's a minor quibble. Or is it? The album has a lot of moments like that - little tweaks here and there would make several of the songs better. A little more time spent on vocal melodies would have been time well spent.
Ace's obsession with space based themes returns on, "Past the Milky Way," a song that would have fit in well in the mid 70's. This is a song with a lot of dynamics and a good slow-ish groove. The vocal melodies are a little stronger on this one than on several of the tracks, and the overall construction of the song shows a little more sophistication than most of the songs on Space Invader. This is another really good track, pushing greatness but not quite getting there. It is close enough, however, that it is another clear album highlight.
"Reckless," starts out sounding like something W.A.S.P. might have done on The Last Command, but that only lasts as long as the four bar intro. After that Ace jarringly turns the song into something completely different with clean electric guitar for the verse. It works, almost. This is another song that could have used a strong producer who could also co-write songs to guide Ace. It's a little disjointed, and the vocal melodies aren't all that hot, either. It's OK, and works in context of the album, but this song could have used more work at the songwriting stage.
Then we get Ace's cover of Steve Miller's, "The Joker." Ace had his greatest solo success with a cover song ("New York Groove"), and he's done cover songs on most of his albums (including a great cover of ELO's, "Do Ya," on Trouble Walkin'), but this one is only marginally effective. It doesn't stray too far from the original, but also lacks the subtlety of that version.
The album closes out with a Led Zeppelin-esque instrumental called, "Starship." There is another attempt at studio production with a presumed conversation between a spacewalker and mission command, but it is far too long and is almost completely unintelligable. The intro is a total fail. The rest of the song is a bit too long, but does feature some nice music and a really nice bass part. Ace's solos are fairly good as well. It's a decent way to end the album.
As for the audio production, it is a clear step down from Anomaly. It's more compressed than was Anomaly, doesn't feature guitar tones as good as those on Anomaly, and just sounds a little harsher (as if he were influenced by the mix on KISS recent Monster album - but, don't worry, it's not nearly that compressed or harsh). The overall tones and mix aren't bad, but as the last album's audio production was significantly better it is a letdown.
So Ace has delivered an album with a handful of tracks that are worth repeated listens. That alone makes the release worthwhile.
3/5