Post by Erik Rupp on Oct 31, 2018 0:39:09 GMT -5
Roxanne - Radio Silence (2018)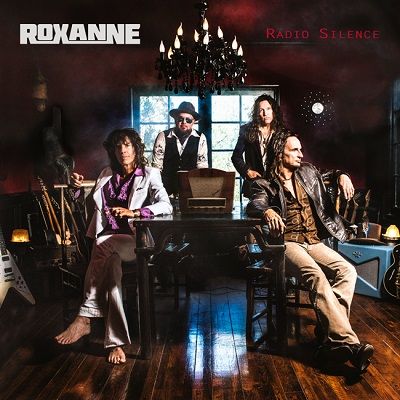 In 1988 a band out of Southern California called Roxanne put out their self titled debut album on Scotti Brothers records. It was a minor hit, led by the singles, "Cherry Bay," and their cover of, "Play That Funky Music." Despite making inroads at radio and starting to develop a fanbase, the record company was less than fully helpful in developing their career. After struggling to get by without the needed label support the band floundered and disbanded. But they never really gave up on the belief that they were a good band and could make great music.
So thirty years removed from that debut album the band is back with a new album and three new music videos. That belief that they still had another album in them - a great album - wasn't misguided. Radio Silence is the album that proves that Jamie Brown (Vocals, Guitar), Joe Infante (Bass, Vocals), John Butler (Guitar, Vocals), and David Landry (Drums) had the ability all along to put out a truly classic album that would transcend musical eras, and Radio Silence does just that.
There are sounds of the 70's here (Queen, Boston, Thin Lizzy, Eagles, Led Zeppelin, various Funk acts), sounds of the 80's (their own style, of course, as well as Def Leppard, Whitesnake, Bon Jovi), sounds of the 90's (Black Crowes), and sounds of the modern era, too (Rival Sons, The Answer, and even something like Hinder, to a small degree). There are even some Beatles influences at work here, too. Radio Silence is a Hard Rock melting pot, making it hard to pin down to any one era, stylistically. That melting pot sound gives the album a timeless sound and feel.
If this album had come out in 1990 it could have been a smash. In 2018? Chances are it will go largely unnoticed by most rock fans, but not because of the quality of the album, but because there just aren't many outlets to play new Hard Rock music at this point in time. Fans who want to find new material may find it, but more casual music fans will never know just how great this album is and how much they'd love it if they actually heard it. And make no mistake, this album is great. Truly great. Classic great. It sounds like the work of a band twenty years younger than these guys actually are. It's got a vitality and energy that stands up to anything bands half their age would come out with and outclasses them all.
And it doesn't just follow one style or mode. From the Queen/Foreigner hybrid sound of, "Someone To Kill," to the funky, grooving Hard Rock of, "Super Bad," to the Boston meets Black Crowes (with a touch of Queen) sound of, "Girl's Alright," there are a bunch of different tempos, styles, and feelings on the album. You've got moody Blues Rock on, "Without Us," and the very 70's meets 90's sounding, "Quarter To Four." There's also the big Blues based Zep/Montrose stomper, "Go Fuck Yourself," which is far better than you'd expect given the title (it's one of the albums' best songs, and features Doug, aka dUg, Pinnick on vocals and George Lynch on guitar). The album has a plethora of Rock variations, but the scary thing is just how well they all work together, and how cohesive the album is. From the rowdy Hard Rock, to the more artsy or Bluesy Rock, to the mellower acoustic based songs it all fits.
Oh, there is also a song on there that some might recognize. "Man in the Moon," is a re-recording of a song they wrote and recorded for their debut album in 1988. If that title sounds familiar, that's probably because you heard The Scream's cover of the song. Most Rock fans don't realize that Roxanne wrote and recorded the song three years before The Scream recorded their version (which became a minor radio hit), but this is Roxanne's song, and they reclaim it here, even if they've got Doug Pinnick on bass and Korn's Ray Luzier on drums. All three versions of the song are good, but this might very well be the best to date.
Most importantly, there isn't a single dud on the album. Not one. There is nothing on the album that is less than very good, and, depending on your taste, there are several that are truly great. Lead vocalist/guitarist Jamie Brown is the band's principal songwriter, and on Radio Silence he didn't just step up his game from their previous album, he left that one in the dust. Radio Silence obliterates their first album, quality wise, and there are some good songs on that album (even if that album was sabotaged by poor, overly processed production and a few lifeless, middling songs). This kind of improvement album to album is rarely seen. Think Judas Priest from Rocka Rolla to Sad Wings of Destiny kind of improvement. It's a giant leap upwards.
A special note should be made about the album's audio production and mix. This album sounds fantastic. It sounds major label good (even though it had to be recorded on a shoestring budget). This is even one of the best sounding albums of the last couple of years, sonically. If this album has a weakness, it's not readily apparent.
In 2018 Rock and Roll is alive and kicking, and Roxanne has got a size 10 boot ready to go with this album.
4.75/5